TuneLab for Android Phones and Tablets, v2.3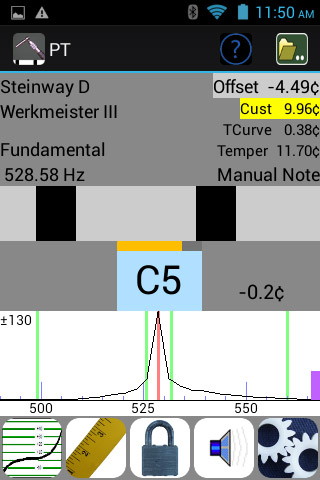 TuneLab for Android is the latest in the TuneLab family of piano tuning products, including TuneLab Piano Tuner for iPhone/iPad/iPod Touch and TuneLab Pro for Windows laptops. TuneLab includes the following features:
Ideal tuning curves automatically adjusted to match any piano
Built-in context-sensitive help
Automatic calculation of inharmonicity
Phase display and Spectrum display for tuning
Split-Scale tuning for poorly-scaled pianos
Historical (unequal) Temperaments
Click here to see what's new in version 2.3.
System Requirements:

TuneLab for Android is designed to run on an Android device with Android 3.1 or later. It runs on both the ARM-v7a processor and the Intel Atom processor. You can find out if your phone or tablet meets these requirements by installing the software in free-trial mode and trying it out.

Installation Instructions:
In your Android device, enable the loading of apps from "unknown sources". This setting is usually found under "Security" in your device's settings. It may also be called "Allow installation of non-Market applications". Check the option that says "Allow installation of non-Market applications".


Open a web browser on your Android device and type in the address:
www.tunelab-world.com/tland


On that page you will find a download for the file "AndroidTuneLab-2.3.apk". Tap on it to download the file.


After you download that file, go to Downloads in your Android web browser and locate that file and tap on it. That will invoke the package installer which will actually install the software onto your Android device. Downloads may also be accessed from the browser on your Android device.


After the software is installed you might want to go back to step 1 and uncheck the option for installing non-Market applications.


Download the manual: TuneLab_Android_Manual.pdf. (There is also a Spanish manual for version 2.2 provided by Daniel B. Ignat.)
Running:
To run TuneLab Piano Tuner after it has been installed, from your Android home page go to Apps.


Within Apps, look for "Piano Tuner" with an icon that looks like this: Tap on this icon to run TuneLab Piano Tuner.
Licensing:

Initially TuneLab Piano Tuner runs in free-trial mode. In this mode it has all the functions and abilities as the paid mode. But it will display a message about free-trial mode for two minutes every 14 notes. This is the only restriction in free-trial mode. In order to eliminate these messages and pauses you can license your Android device for $300 USD.
Within TuneLab go to Settings / Licensing and follow the instructions to send us the device ID of your Android device. Your license number will be keyed to this ID.


After sending us your device ID, go to www.tunelab-world.com/orders and make arrangements for payment.


When we receive payment we will send you by e-mail a license number that is keyed to your device. Although the license number only works on one device, if you need to change devices and need the license to be transferred to the new device just contact us and we will help you do that.
Alternate Installation Methods:

If your Android device does not have Internet access or the direct downloading method is not working for some reason, then there are several other methods you could try.
The first method is to download the "AndroidTuneLab-2.3.apk" file mentioned above onto your desktop computer. Then copy it to an SD memory card. Then insert the SD card into your Android device and use an Android file explorer app to find this file. Tap on that file and it will do the installation.


The second method starts out the same as the first one. But instead of copying the APK file to an SD card you plug the Android device into your desktop computer using USB and then copy the APK file to external memory in your Android device. Then find the APK file on your Android device as before.


The third method starts out like the first two. After you download the APK file to your desktop computer you can send it as an attachment to an e-mail. Send the e-mail to the e-mail address that can be received on your Android device. (This also requires Internet access, of course). Then from within the e-mail app you may be able to activate the attachment and perform the installation.